| | |
| --- | --- |
| | Malibu DREAM Girl |
Swimwear Order Form
End of the year SALE all 2001 swimsuits 25% off
Monty Pyton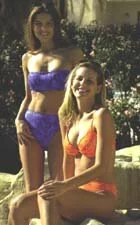 Bandeau / Scoop

Style #202101/01 $49.00
Color: Blue
Sizes: M

Underwire Bra / Hi-Waist

Style #203401 $53.00
Color: Blue
Sizes:   S, M
Dreamline
Padded Barlette / Scoop

Dark Peri Style #231202/01 $46.00
Sizes: S, L

Underwire Bra / Hi-waist
Black Style #233104/03 $51.00
Sizes: S, M, L

Underwire Bra / Scoop
 D Cup Black Style #233004/01 $51.00
Sizes: S, L
1 pc Tank

Style #410002 $56.00
Color: Dark Peri
Sizes: S

1 pc Tank

Style #410001 $56.00
Color: Crimson
Sizes: L
1 pc Tank

Style #410004 $56.00
Color: Black
Sizes: M
Swimwear Order Form
End of the year SALE all 2001 swimsuits 25% off
            Items may be returned with in 2 weeks from date of purchase as long as the tags are still on.
For questions about any lines please . Be sure to list the brand you are talking about.
We are only a retailer not the Manufacturer.
Sorry No printed Catalogs available only the web site.
Your number    since 6/20/01